RED WINEHOT CHOCOLATE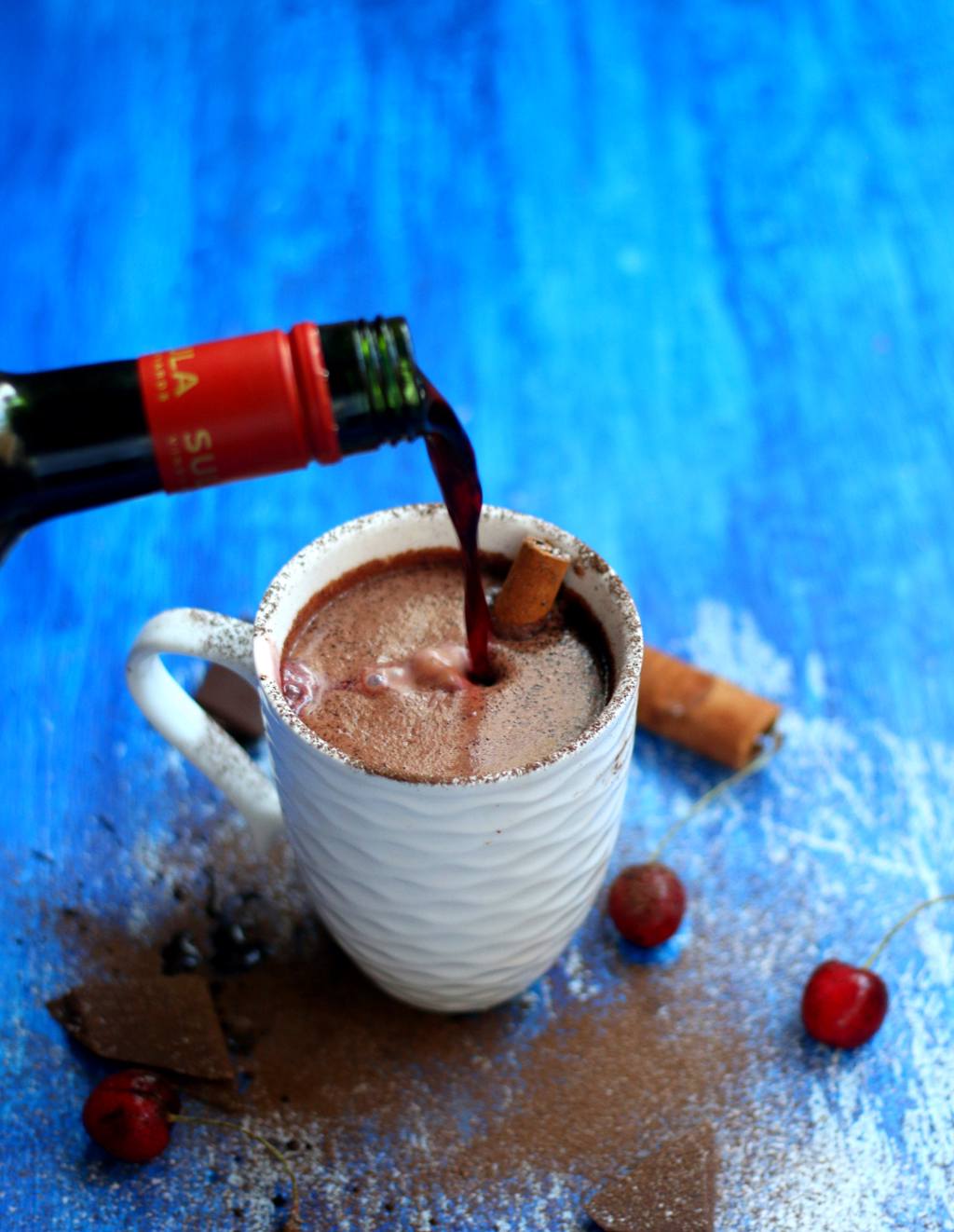 Ingredients
Dark Chocolate Chunks 1/2 cup
Milk 1 1/2 cups
Red Wine 1/2 cup
Cinnamon pinch
Steps
1. Melt chocolate in the microwave for 1 minute till the chocolate chunks are fully dissolved. Keep an eye on this as the chocolate could burn if you keep it for longer.
2. Heat milk. Add the melted chocolate to this. Let the milk boil. Make sure that you stir in the chocolate well to avoid clumps forming.
3.Now add the red wine.
STOUT HOT CHOCOLATE WITH ICE-CREAM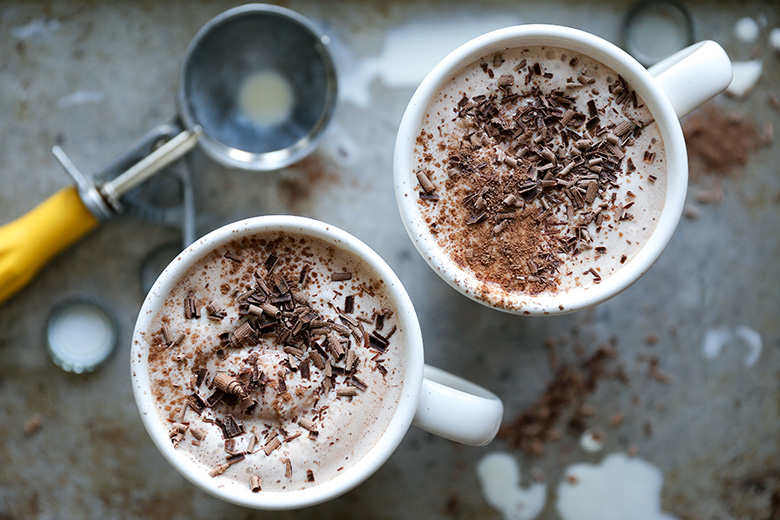 Ingredients
12 ounces chocolate stout beer
2 cups whole milk
3 tablespoons unsweetened cocoa powder
4 ounces dark chocolate, chopped
1 tablespoon sugar
Two large scoops of vanilla ice cream
Instructions
In a saucepan over medium-high heat, bring the chocolate stout to a simmer. Cook the stout for about 10-15 minutes, or until it's reduced to about 3/4 of a cup. Remove from the heat and set aside.
In a separate sauce pan, warm the milk over medium heat, being careful not to bring it to a boil. Add the cocoa powder, chocolate and sugar, whisking until everything is well combined and the mixture is smooth. Whisk in the reduced beer. Remove from the heat and set aside.
Divide the ice cream between two mugs. Pour the stout hot chocolate over the ice cream. Serve immediately.
BLACK CHERRY BOURBON HOT CHOCOLATE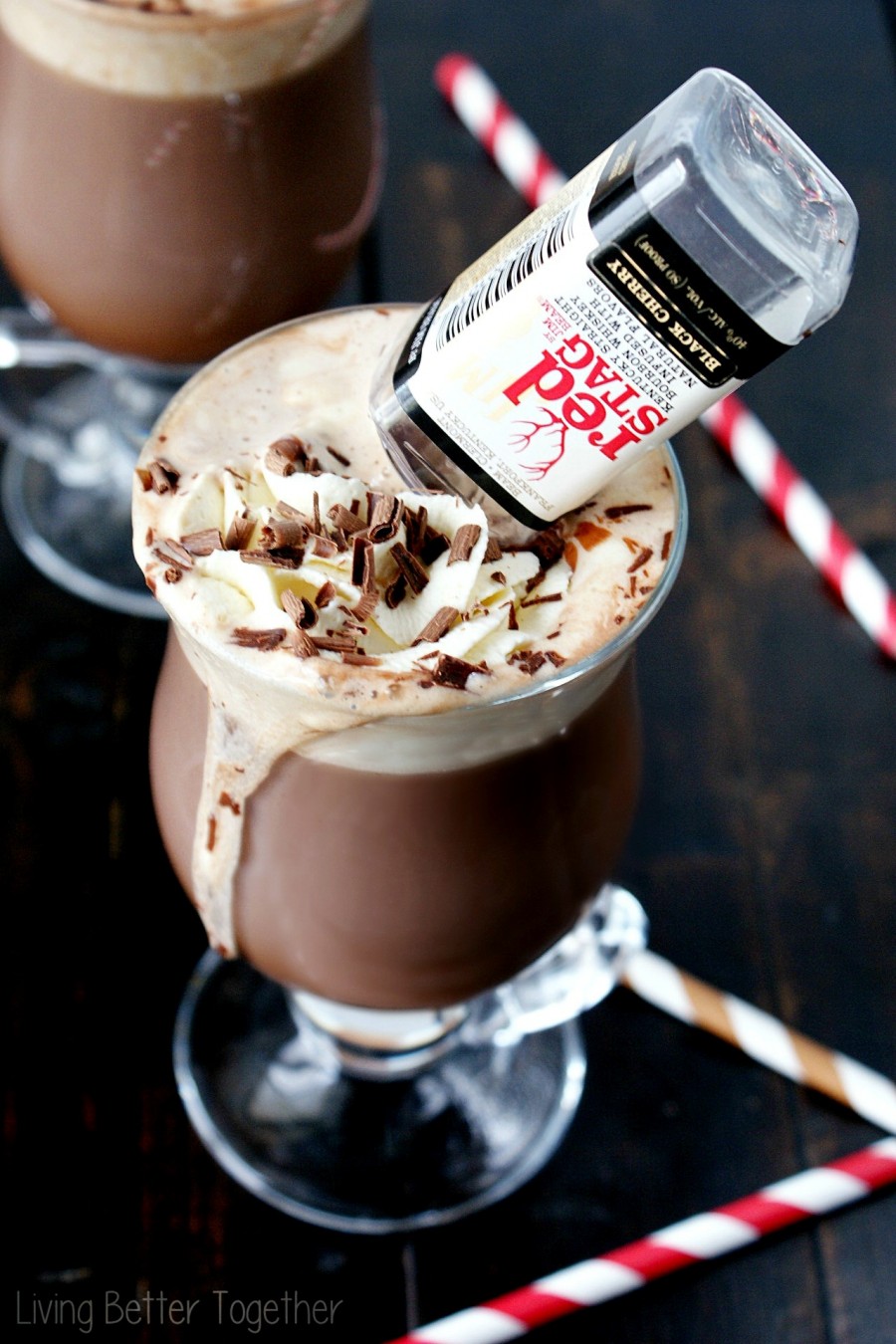 Ingredients
1. 1 1/2 cups Milk
2. 5 tbsp Ghirardelli Double Chocolate Hot Chocolate Mix (Or mix of your choice)
3. 2 oz. Red Stag Black Cherry Bourbon by Jim Beam
4. Whipped Cream (I like homemade)
5. Chocolate Shavings

Instructions
In a small saucepan, heat milk and hot chocolate mix over medium - high heat until it starts to steam (do not boil).
Stir frequently.
Pour 1 oz. of black cherry bourbon into each cup.
Evenly divide hot chocolate between the two cups.
Top with whipped cream and chocolate shavings.